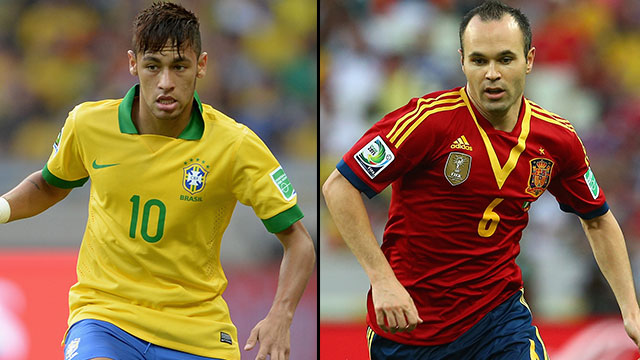 Brazil made it four wins from four after casting aside Uruguay in the semi-finals. Group wins over Italy, Japan and Mexico where all richly deserved and this Brazil side are capable of big things with a little tinkering. Left attacker Hulk is a player of undoubted quality but he does not fit into this Brazilian side. As soon as diminutive attacker Bernard came on the whole shape of the team looked better and more balanced. Central defence is no place for a David Luiz and Chelsea fans and Brazil fans alike know this. Defensively lacking and always capable of erring he is not one to rely on. Apart from that Brazil look quality all over, wingbacks Alves and Marcelo are among the best in the world. Oscar looks quality in his attacking midfield role. Fred is one of those players who do very little but score in every game, a decent quality in a forward. Paulinho is an underrated player who fits in well to the team. In Thiago Silva Brazil possess one of the best central defenders in the game. Options on the bench are varied and there is quality back up in all areas.
Spain comes from playing previous games against Tahiti (FIFA ranking 138) on 6/20 in which they won 10-0, Nigeria (FIFA ranking 31) on 6/23 where they won with a final score of 3-0, and last game played against Italy (FIFA ranking 8) on 6/27 in which Spain tied with a final score of 0-0, but won the game in penalties by a score of 7-6.
Match: Brazil vs Spain
Football: Confederations Cup 2013, Brazil Final
Date: 30 June, 2013 - 18:00 CET
Stadium: Estadio Jornalista Mário Filho (Maracanã) - Rio de Janeiro, Rio de Janeiro.
Possible line-ups:
Spain (4-3-3): Casillas; Arbeloa, Pique, Ramos, Alba; Busquets, Xavi, Iniesta; Fabregas, Soldado, Pedro.
Brazil (4-2-3-1): J.Cesar; D.Alves, T.Silva. D.Luiz, Marcelo; L.Gustavo, Paulinho; Hulk, Oscar, Neymar; Fred
Read More