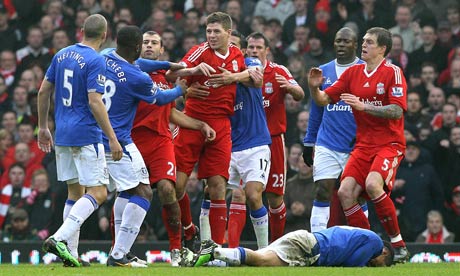 Liverpool vs Everton- Competition: English Premier League
Match date: Saturday, 27 September 2014 - Kick Off Time: 12:45 BST
Venue: Anfield Road, Liverpool, United Kingdom
Liverpool are simply failing to adjust to life without Luis Suarez. New signing Mario Balotelli was supposed to ease the pain from the Uruguayan's departure, but the controversial Italian has done little in the ways of playing the hit-man for his club. Of course, it doesn't help matters that Daniel Sturridge has been injured since the international break, as the hosts were expecting to rely heavily on the Englishman this season. However, he is expected to return to the fold this Saturday in the Merseyside Derby, hoping to ignite an attack that was nearly unstoppable last season. Manager Brendan Rodgers will need to find a way to plug the gaping holes in defence though, as they have conceded in every match so far outside one. Their midweek match in the League Cup saw them concede twice more to a good but nonetheless a Championship side Middlesbrough, who took the favored Reds into penalty kicks. An astonishing back and forth shoot-out saw both sides miss just once before the score sat at 12:12. But after new signing Adam Lallana smashed his home, Adam Reach wasn't so fortunate and Liverpool hung on by the skin of their teeth. Such a lackluster display won't go rewarded this weekend though, but the return of Sturridge could prove vital to the end result.
Everton team have had an up and down season so far, claiming just 5 total EPL points from 5 total matches while also bowing out of the Capital One Cup with a limp effort (3:0). However, they've also seen the return to form of their record-signing Romelu Lukaku as well as a massive 4:1 triumph over Wolfsburg in the Europa League. Now, a trip to Anfield could prove to be a big stepping stone in the right direction for the visitors, who were expected in the pre-season to contend for a top 4 finish. However, they've hardly looked the part, conceding the most goals in the Premier League so far with some porous defending; the same defence that conceded the second-fewest goals last PL season. It's an odd turn of events as the personnel hasn't changed whatsoever, and perhaps the age of Sylvain Distin is finally catching up to him. Nonetheless, they must push on and contain the newly-formed Sturridge-Balotelli partnership, while being wise to the lightning-quick Raheem Sterling. Manager Roberto Martinez typically has a difference-making card up his sleeve, but his tactical tricks and genius won't help if the defence can't make a simple clearance.
Liverpool last 5 matches:
31/08/14 Tottenham 0 – 3 Liverpool
13/09/14 Liverpool 0 – 1 Aston Villa
16/09/14 Liverpool 2 – 1 Ludogorets
20/09/14 West Ham 3 – 1 Liverpool
23/09/14 Liverpool P 2 – 2 Middlesbrough
Everton last 5 matches:
30/08/14 Everton 3 – 6 Chelsea
13/09/14 West Brom 0 – 2 Everton
18/09/14 Everton 4 – 1 Wolfsburg
21/09/14 Everton 2 – 3 Crystal Palace
23/09/14 Swansea City 3 – 0 Everton
Read More