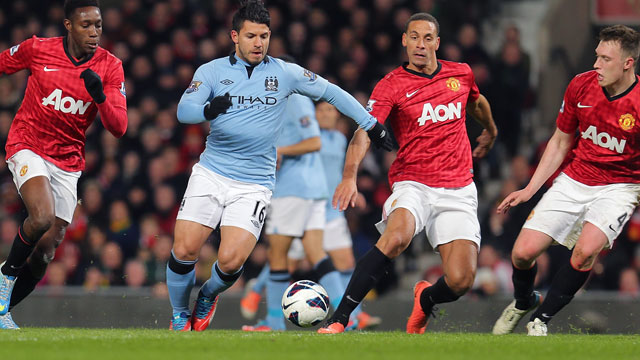 Manchester City vs Manchester United
Competition: English Premier League
Match date: 2 November 2014
Kick Off Time: 13:30 BST
Venue: Etihad Stadium, Manchester
Man City team are coming off an embarrassing 0-2 Capital One Cup loss to Newcastle at home. That said we are still talking about one of the most imposing teams in the world at this point. They should have rested everyone but instead gathered injuries to stars David Silva and Yaya Toure leaving their statuses up in the air for Sunday's clash in the Etihad. Also they managed to lose to West Ham in Upton Park 1-2 in their previous EPL game. Both these factors should help change the momentum a bit in United's favor. But, despite this recent humiliation, City boast a top level club sitting in 3rd place of the Premier League, winning 5 of 9 league games played. Led by defensive captain Vincent Kompany and incredible goal scoring talent in Kun Aguero, who has put away a sexy 9 goals in 9 appearances, City will look to utilize these stars in the absence of Silva, Toure to help rebound off recent losses against their hated in-city rivals. If they can manage to control United's counter attacking game, which they have struggled with this season, Manchester City should gather all 3 points here on their safe return into the Etihad Stadium.
Manchester United have never started an Premier League season as poorly as they have this season. New transfers and mainly a new managing regime led to early problems with finding a team identity. Louis Van Gaal's tactics are starting to reveal themselves more so recently as United have managed an impressive 1-1 draw at home against the seemingly best club in world football, Chelsea. Going unbeaten with 2 wins in their last 4 is a promising sign for many United fans worldwide. Decisive free kicks and smart, quick turning counters have opened up the creativeness of this team that is starting to gel with each other after the poor start to the new season. They will need more of the same as they travel to play their hated inner city rivals on Sunday as they haven't managed to beat Man City since late 2012. But, this promising turnaround has many supporters believing a point is within reach if United can manage to keep a cool head against the imposing City team they are about to face. Led by star Dutchman Robin Van Persie, who has been working desperately to get back in form, netting a fine goal to tie Chelsea late in the game last week, as well as the ever loved Wayne Rooney back from suspension, should help United enter the Etihad Stadium on Sunday with dreams of glory and redemption.
Manchester City last 5 matches:
04/10/14 Aston Villa 0 – 2 Manchester City
18/10/14 Manchester City 4 – 1 Tottenham
21/10/14 CSKA Moskva 2 – 2 Manchester City
25/10/14 West Ham 2 – 1 Manchester City
29/10/14 Manchester City 0 – 2 Newcastle
Manchester United last 5 matches:
21/09/14 Leicester City 5 – 3 Manchester United
27/09/14 Manchester United 2 – 1 West Ham
05/10/14 Manchester United 2 – 1 Everton
20/10/14 West Brom 2 – 2 Manchester United
26/10/14 Manchester United 1 – 1 Chelsea
Probable lineups:
Manchester City:
Hart – Zabaleta, Kompany, Mangala, Clichy – Milner, Fernando, Yaya Toure, Nasri – Aguero, Dzeko.
Manchester United:
de Gea – Rafael, Smalling, Rojo, Shaw – Blind, Herrera – di Maria, Rooney, Januzaj – van Persie.
You can watch the match here: Link 1 , Link 2
[Live Scores]