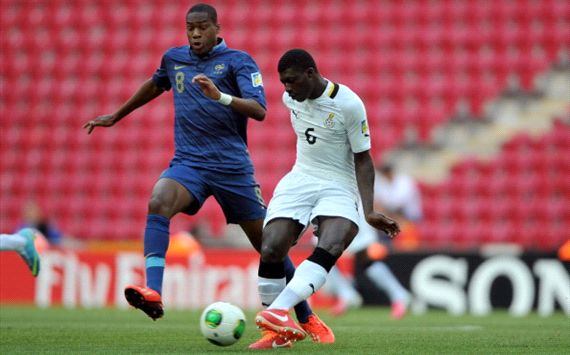 Attatürk-Stadium, Bursa will be hosting on 10 July 2013 , an U-20 World Cup Semifinal match between France vs Ghana.
I t was clear from the begining that France was the dominating team as they missed many opportunities, so it was fair enough that it qualified for the semi-final against Usbekistan after scoring two penalties so the match ended up 4:0. France will have to use its chances more consequently in the match against Ghana to realize its dream to play in the final. In addition to Usbekistan, France was able to eliminate Turkey from the tournament as well. It won against Ghana, drawed against USA and lost against Spain in the group games. France has a noteable goal difference of 13:5 and its top scorer is Yaya Sanogo with 4 goals.
It was able to win the first matchup with Ghana with 3:1. France managed that win with two quick goals in 180 seconds and Ghana was far from chanceless. The semi-final will definitely be a different game.
Ghana won in the quarterfinal against Chile with 4:3 in extra time. It was an attractive game with a lot of offensive power from both sides. It was dramatic and Assifuah finally scored the game winning 4:3 in the last seconds of the second half of extra time. The game showed that Ghana is always able to score goals and that it has a few players with great individual skills in their squad. But, on the other hand, Ghana received a lot of goals (10) as well. Nevertheless the heart and passion it showed make it a serious contender for the world champions title. Furthermore, it already eliminated higher rated Portugal and Chile and should no longer be underestimated.
Possible line-ups:
-FRANCE: Areola; Foulquier, Zouma, Umtiti, Digne; Pogba, Kondogbia, Veretout, Thauvin; Sanogo, Bahebeck.
-GHANA: Antwi; Nketiah, Addico, Mensah, Rahman; Salifu, Ashia, Acheampong, Aboagye; Assifuah, Boakye.
Match Details and Timings:
Football: U-20 World Cup Semifinal
Match date: 10 July 2013
Kick Off Time: 17:00 CET - 15:00 GMT
Stadium: Attatürk-Stadium, Bursa
You can watch the match
here