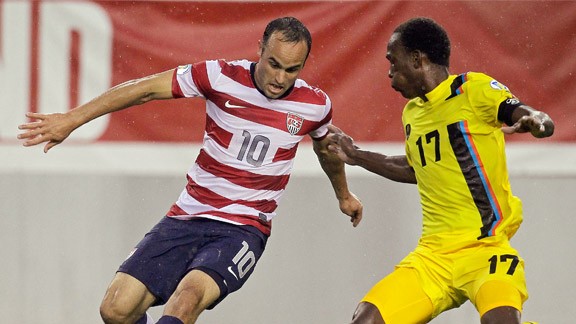 Qualcomm Stadium, San Diego, California will be hosting on Jully, 6th, 2013, an International Friendly match between United States and Guatemala.
The United States have hit a rich vein of form of late with four consecutive wins. They paved their way up to the top of World Cup qualification group and won the match against Germany in there too. Jurgen Klinnsmann seems slowly changing the style of play of the US national team and they are starting to look a lot stronger for it. Since the start of the year they had 9 games, which they won 5, drawn 2 and lost 2.
Guatemala team is in terrible form and comes into this game on the floor confidence wise. Without a win in 11 matches in a run that stretches all the way back to October 2012. Just four draws is all it has to show in that time and 7 defeats shows how poor it has been. Of the opposition only, US, Argentina and Colombia would be classed a top nation and all the rest are ranked of a similar nature. This thing did not make the World Cup knockout stage and it's easy to see why with their current record.
Possible line-ups:
-Guatemala (5-4-1): Jerez; Gallardo, Lopez, Rodriguez, Vazquez, Morales; Velesquez, Galindo, Ponce, Rodriguez; Ruiz.
-USA (4-3-3): Howard, Cherundolo, Bocanegra, Goodson, Johnson; Bradley, Edu; Donovan, Dempsey, Jones; Gomez.
Match Details and Timings:
United States vs Guatemala
Football: International Friendly
Match date: Jully, 6th, 2013
Kick Off Time: 05:00 CET - 03:00 GMT
Stadium: Qualcomm Stadium, San Diego, California


You can watch the match
here