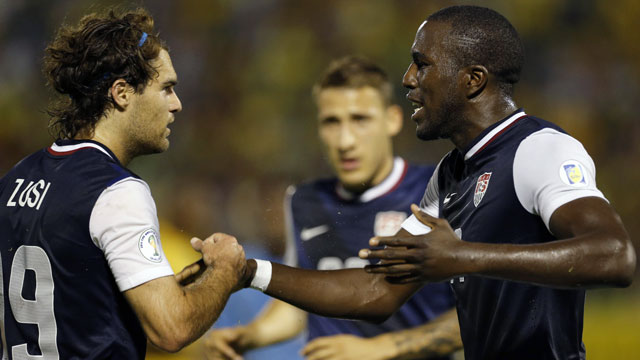 Soldier Field, Baltimore (United States) will be hosting on 28 July 2013, an CONCACAF Gold Cup, Final match between United States and Panama.
United States team is on a ten-match winning streak and has blasted through this tournament: scoring 19 goals and allowing 4 in five matches. Very recently, USA defeated Honduras 3-1 in a match, in which it never really looked to be in danger of losing. The return of Landon Donovan to the national squad has made hopes of securing a spot for the 2014 World Cup in Brazil.
Panama turned heads yet again when it overcame Mexico 2-1 in the Gold Cup semifinal. Having already defeated it in the group stages, the match was expected to be close, but the Mexico has shown they are a good team and will be confident coming in against the tournament hosts. Panama team faced USA in the 2005 Gold Cup Final but would eventually lose 3-1 on penalties.
Possible line-ups:
-USA (4-4-21): Rimando; Parkhurst, Gonzalez, Besler, Beadley; Bedoya, Holden, Beckerman, Torres; Donovan, E. Johnson.
-Panama (4-4-2): Penedo; Rodriguez, Torres, Parrish, Chen; Quintero, Sanchez, Gomez, Godoy; Perez, Torres.
Match Details and Timings:
Football: 2013 CONCACAF Gold Cup, Final
Match date: 28 July 2013
Kick Off Time: 4:00 PM EDT - 20:00 GMT
Stadium: Soldier Field, Baltimore